You need a website to feature your service and get clients, the problem is that costs a lot money. Not anymore, use your time because making a website for your local business has never been easier. If you're a busy guy and don't want to do it yourself today is your lucky day. I am looking for business owners to put in my portfolio, i'm doing it for the maintenance cost: $29/mo. Check out everything you get here.
On towards the guide
Publishing and managing a website is no longer reserved for the techies of the world. Here's an overview of the steps:
Get a hosting service
Register a domain name
Install WordPress on your site
Pick a Theme, style your site
Write and design the content for your site and presto your business is live on the internet.
it's a bit easier said than done and if you want me to do it for you, I do offer services to both make your site and advertise for it, but here's the full detailed guide on how to build a site for your business:
Get a Hosting Service:
There's many hosting services on the internet, they all do a lot of the same work. Basically they have high speed computers called servers where for a price, they will store your site. One great hosting service that is known for great customer service and their awesome reviews is Bluehost. For only 3.95 a month you will get a domain name and hosting, pretty sweet deal considering their customer service is top notch. You can always go to other hosts like Dreamhost, Hostgator, etc. For the purpose of this guide we will use Bluehost.
First off go to the bluehost home page and click "get started now". Choose whichever plan you want, the basic one should be enough, unless your business is on the bigger side.
Getting The Domain Name:
If you opted for Dreamhost they will set you up with a domain if you go through the steps, the best part is it comes free with the hosting, else you're going to have to purchase it from a domain registrar and pointing the dns to your host.
Choosing Your Domain Name
When picking a domain make sure it's not too long and I would say stay away from symbols and numbers. Your company's name or the service you do plus your city should be fine. Make it catchy so people can remember. For this reason i also prefer ".com" since it is the most widely used known one. ".com" is mostly worth it if it's available, but others are fine. My preference is .com>.org>.net>.co
After picking the domain name if you're still going through Bluehost just follow the setup provided by Bluehost until your're done with the payment and signing up. Now it's time to install wordpress into your site
Installing WordPress
This might sound like the most complicated part but Bluehost and many other companies has made it as simple as possible. Login and go to your Cpanel in it scroll to the section titled "MOJO Marketplace" and click on"One-Click- Installs" Once there just click on the WordPress icon.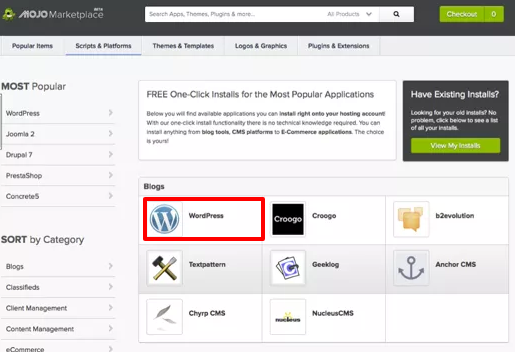 Once in just press start and it will make you choose where to install WordPress, just choose the domain you created before. Now this will appear: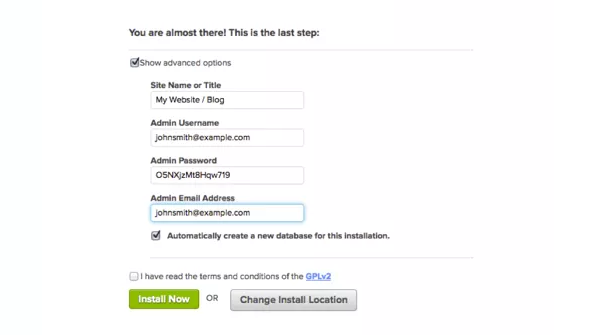 for the username use something personal you will remember, avoid using "admin" because that is the default and might cause spam to your email. Use a secure password to avoid strangers entering your site. As for site name try to include your company name and/or your area and expertise. An example: Gonzalo Carpenting, Boca Raton Carpenting. Don't make it too long, site name will appear in your pages by default. When al; is filled out just click "install now" and it will start installng
Once the application has successfully installed, you'll receive an email giving you instructions on how to login to your wordpress admin. They will give you a user and a password use them to login to your site. They should give you the link that look like this "yoursite.com/wp-admin". Now your site is up and working it's time to…
Pick a Theme
Business image is important. Themes are like skins for your site, a site without a skin tends to look kind of bland.  Like a wall without paint. Themes make your site have a nice pop to it, its the design someone else has taken the time to do so you don't have to. Even sites such as apple that pride themselves in being simple use a theme to make their site look simple.
Things to take into account for picking a theme
60% Searches are Made on Mobile: It'd be great if your clients can browse your site easily through their phone. Find yourself a "Responsive" theme. It's 2017 so a lot of themes are responsive (good for mobile and other screens) by default.
Premium themes: They are superb but not necessary. Free themes can easily do the job if you put the time in. Premium themes can cost as low as one time payment of 30$ and they grant you support for a year. This plus an easier layout which will save you a lot of time. Since time is money, I highly recommend going for a premium theme. The best theme I've found so far is X theme. Kind of expensive at 65$ but it's  beautiful theme and very easy to customize. This site was made with X theme and took 2 days to setup. Look at x theme by clicking here. It's responsive, comes with many add-ons that are great for business and provides great customer service.
Making Content For Your Site
Congratulations your site is live and now will probably look gorgeous, but it's pretty empty.
You have to add in words to it. Go to your admin bar click on pages and add pages.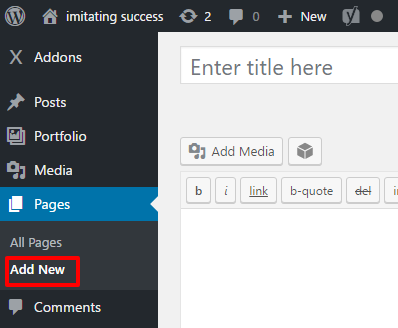 Enter a title in. Write words for your page and then press publish.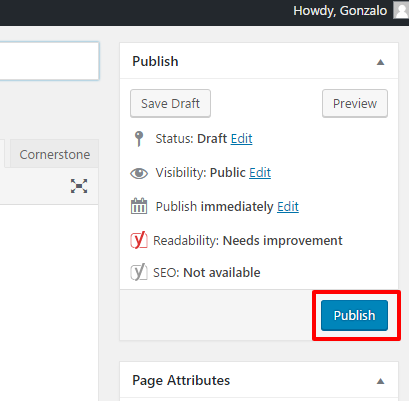 Now you have a page, it's time to make it your homepage. Click On Settings>Reading
Now make your page your homepage.

Then click on save changes.
Congratulations!
Now you have published your site, have a page on it and it's probably looking quite good, but so has most of your competition. The more you handle your admin panel the more customizations you will be able to do. There is pretty neat things you can do with your site, if you can't wait to figure it out give me a call and hire me I promise you won't regret it.
Things You Should Do Now
Make sure your phone number is displayed clear on every page so people can contact you.
Add in a contact form to get leads from people who don' t wanna call just yet (plugin for that is Contact Form 7)
Write a page for each service you do
Make your homepage at least 500 words long
Add in images
Read about onsite SEO and how it works, find your best keywords and try to include them in your words.
Read about backlinking and how it works (be careful with this and really go and study thoroughly) with both offsite and onsite SEO if you make a mistake it could mean the failure for your business site.
Guides for this will come out soon, but I am quite busy working on projects so stay tuned!