You want to start ranking your business, but do not know how hard it will be to get to the top? We invest a lot of money into paid programs to know exactly how hard it will be to rank a site and what will be needed to be done. However there exists some free programs that sort of give you an idea, we will be showing how to do it with the free programs, however there would be a much better results with the premium programs. We will do our best to compare ourselves to the strongest competitors
To start off let's Download SEOQUAKE on the Chrome Web Store click here to download. It's free and will help with determining the strength of your competition. 

Now lets find our strongest competitors. To do this we would search on a search engine (we will use the most popular one: Google) and put in our main keywords. Keywords are what our prospective clients would put into the search bar to find us. An example would be if you're an electrician in Miami. Your main keyword would be "Electrician Miami FL". Just take a guess at what somebody would search in order to find your service. Just use any relevant keyword so just anything somebody would search to find a service such as yours.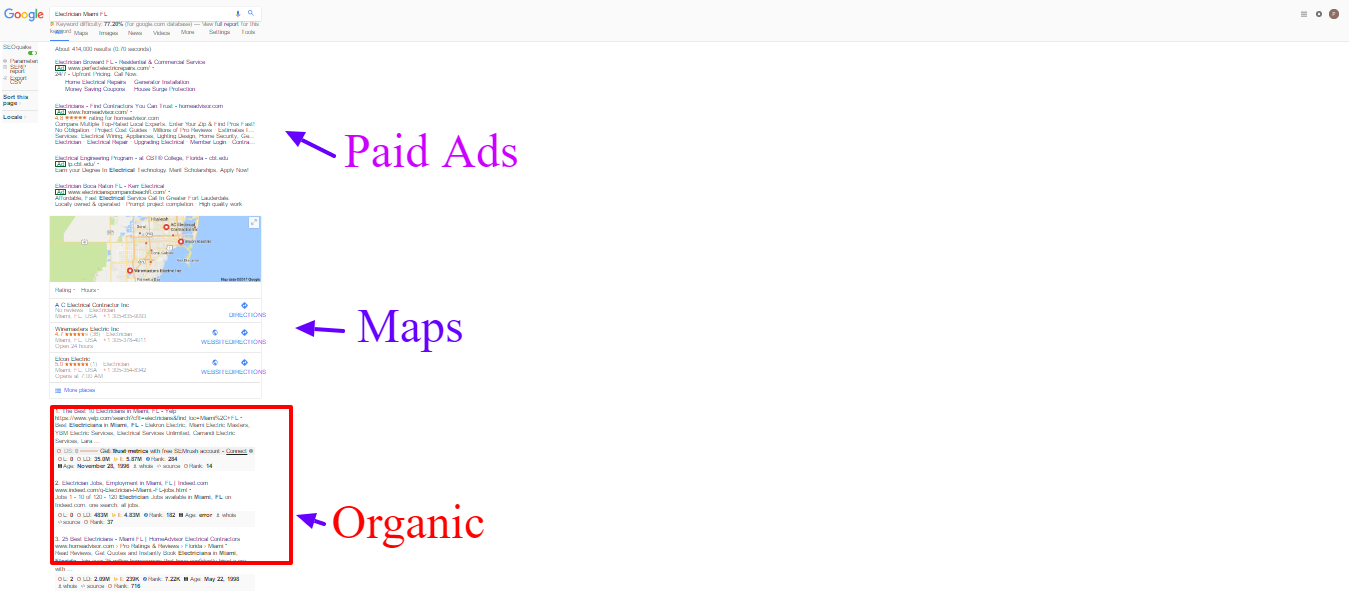 Now, the search should have came through and some interesting things appear. Google search page is divided into 3 parts: ads, maps and organic.
Who Is Our Local Competition
For the first part of our investigation we will be taking a look at our competition's organic profile, so first we have to determine who is our local competition. Normally in the first spots you will find big directories like HomeAdvisor, Angie's List, Yelp. We are going to ignore those since they are trying to rank nationally while we are looking at local. Find the pages that look like they work solely with your city. In our case the city is Miami and these are it.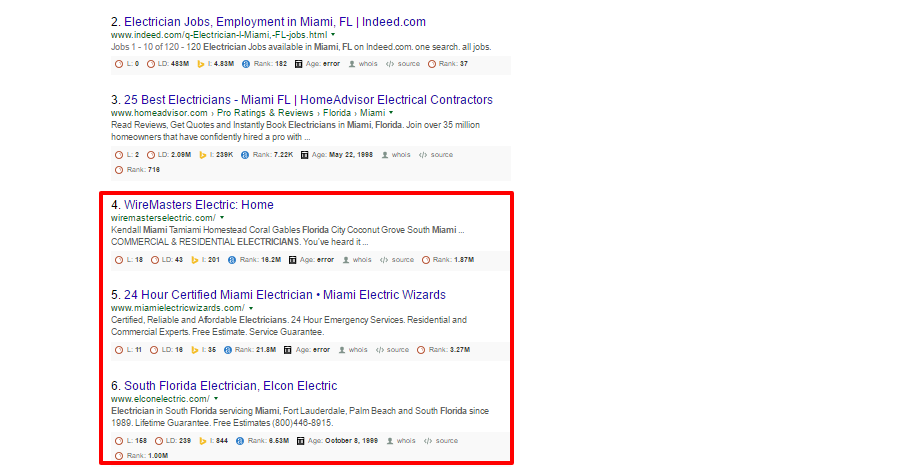 Notice how we excluded the big directories and found the sites that look like they work in Miami and the surrounding areas.
Main SEO (Search Engine Optimization) Factors
Now we will check how authoritative the sites are in comparison to ours. This will determine how much effort we must put in to beat them out. These are the main influencing factors for a site´s ranking.
Backlinks
Content
Site Age
Site Itself
Open up a word document and write these down for every single site you want to compare.
1. Backlinks:
If you want to thoroughly know how backlinks work then click here. You can perform a through inspection,but we will just do an overview. SeoQuake gives you a small new spot in your search. This tells you a few different things and where we find the amount of backlinks a site has.
In this case 11. Now you´ll have to go and check how strong these links are. 1 good backlink can beat out thousands of terrible ones. If you want to check the strength of the backlinks use https://majestic.com/ the service allows you a few free searches a day.
2. Content:
Now you´l have to go a little bit with your gut on this one. Enter the site, does it have relevant information? Yes/No? Write it down on your word sheet. Count the amount of words the site has. Not words in images only words you can copy, paste and drag. Just select the whole page and copy paste it into word to see and look at the word count in the bottom. Got it? Write it down.
3. Site Age:
Now this is an easy and straightforward one it´s right on SEOQuake
February 2, 2012 in this case. Write it down, only the year is sufficient so 2012. The older a site the better it will rank. It is a small factor but still plays a role.
4. Site Itself
Google has always wanted to improve user experience on the sites it showed and ranked. There were just too many obnoxious sites in the search engine. Sites that one would enter and have to shut down, these site were almost unusable. This was not good for Google if the user had to exit every site it showed. For this reasons Google started punishing sites with bad user experience. This gives us new parameters to check. Is your competition's site optimized for mobile? Does it have an annoying pop-ups as soon as you go in? Does it load slow? Google is probably going to make them pay for that.
Beating The SEO Competition
Now with all this you have an idea of how strong your competition is. You just have to beat what they have and Google will rank you with time.
Backlinks: Get more strong, relevant backlinks than them (Remember to make them look as organic as possible)
Content: Have more relevant words on your site, your most popular keywords, but sprinkle them in do not make it look like you are trying to put them there.
Site Age: Not much you can do about site age but compensate for it in the other areas.
Site Itself: Make the UX (User Experience) the best possible. Just consider the well-being of your customer, do not think what Google wants, but what your customer wants. There are now more searches on mobile devices than desktops. Make sure your site is optimized for mobile. If somebody lands on your site they should want to stay on it. Don´t force them to stay because people do not like that. Make it as straightforward as possible. An annoying pop-up could be the difference between a sale and an exit.
This is all to rank better in Organic if you want to know how to rank better on the maps click here.