I went to Chiang Mai after an invitation from an old friend I use to work with. I love the guy so I decided to give it a go and i'm glad I did. For the people who want to work online with no distractions Chiang Mai is the place to do it. Cheap accommodation, great food and a huge online working community. You've never experienced deep focus until you've sat at a working cafe with hundreds of online workers. This post is about what I learned in almost 2 months of living in the city.
My Expenses In Chiang Mai
Cheapest cost of living in luxury I've seen EVER. People say it's getting more expensive every year, but I have never seen prices so cheap, here's a list of my expenses and their description. With the price descriptions you can kind of get an idea of what you might expect to pay yourself.
Cost of My rent: 10,000 baht = $289 month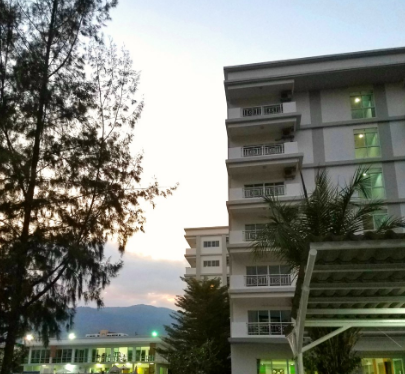 During my stay in Chiang Mai I stayed in a roomey studio apartment that included a gigantic pool and a community gym, high tech reception and a friendly staff. The room cost me 10,000 Baht ($300) a month, which is great considering I lived right next to the gigantic Maya mall. You can definitely live at much cheaper places. For example my friend, Jerry lived 5 minutes away from me and only paid 3,500 baht a month (100 dollars).
Cost of my Food: Less than 350 baht a day = $10 = $300 month
Let's go over a day I splurged more money than usual on food. In the morning it's Maya Mall get a 2 egg omelet with chunks of hot dog mixed into it, costing me 30 baht which is less than a dollar. Then, I grab a full breast of chicken for one full dollar and head to my favorite working space.
I head to CAMP which is still in Maya and go to order their Tuna Salad. Although all my friends think the place is overpriced, I do love me some good canned Tuna. The "expensive" salad costs me 85 Baht which is about $2.50. After a bit of working, my friends invite me to Burmese, a restaurant on Nimman road. I'm quite hungry so I order myself two plates of Cashew Nut Chicken which includes rice, the two plates cost me 80 baht. As for liquids during the day, I drank two big 1.5 L bottles of water 17 baht each.
The total for the day comes up to 264 baht which is around 8 dollars.
Some other expenses for the curious:
I didn't really do much of these throughout the day and you don't need to either, just eating food and working is so fun to me already, but here's some luxury's you can easily account for.
Scooter: Rent out a scooter for 100-200 baht a day, a deposit is required or leaving your passport. These are great to explore temples and other stuff which tend to be free.
Thai Massage: 150-350 baht/hr Thai massages are so goood and cheap if you find the right place.
Laundry: There's a great delivery service called washdrop that costs 50 baht per kilo. If you register with that link you get 80 baht off your first order and as do I. Washdrop pick up your clothes and drop it back off, fully washed and ironed.
Here's some Chiang Mai tips:
Get an AIS Sim Card
AIS basically dominates the streets of Chiang Mai, they have implemented the best marketing strategy i've seen. High powered wifi everywhere. The AIS 10 day sim card costs 150 baht which sounds like a lot but, it's only 5 US dollars. The sim card gives you wifi almost any coffee shop in Chiang Mai. It pays for itself with the super high speed internet.
Uber Is Better
Cheaper and the drivers are some of the nicest people you will meet, here's mine. He insisted I called him fat boy and was the loudest person to ever pick me up at 8am, I love him:
Join the FB groups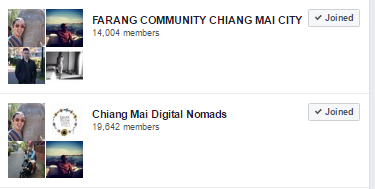 Being one of the biggest digital communities in the world means there's not very many flyers being passed around. Facebook is huge if you want to join events in Chiang Mai. It is the new mural to put events down. Just look up Chiang Mai on Facebook and join every group you see. Get support and ask around for help.
Don't plan ahead
Biggest mistake I did is booking all my flights before time. Asia should and can be travelled by land, saves money and gains great experiences.
Respect the King
It's not brainwash, people actually love the king here. Shirts, stickers and events tend to revolve around the king. Respect the culture.
Chiang Mai Grand Canyon Water Park is Heaven
8 meter leaps into the water, water obstacle course, an incredible view and super cool zip lining. If any of this apeals to you then go to the canyon. Bring a swimming suit and amke sure you bring some baht (300ish) to pay for the entrance. The featured pic is the Grand Canyon
 Places to Live in Chiang Mai:
To Work at: Nimman Area Near Maya Shopping Mall
Nimman has been claimed by internet coffee shops and more expensive restaurants. It is however the best place to focus on work. Best coffee shop I've found for working is located inside the mall and is called Creative And Meeting Place or CAMP for short. It has a great atmosphere for work, very creative places to sit in and lovely staff. I definitely recommend visiting if only to see the people working.
To Have Fun: Old City
No work and much play makes the money go away, if you're feeling bored of routine join the crazy travelers in the hostels. I sure don't regret the crazy week I had at Deejai Backpackers. The staff was caring and the people will stay in my mind forever.
Night Life
In terms of nightlife Chiang Mai lacks because of their laws prohibiting sale of alcohol after 12. Zoe is great for the legal drinking time, many foreigners and happy music. When the point of 12 comes, everybody heads to Spicy a packed club that does not care about taking the hefty fine for selling alcohol after 12. Spicy closes at 2 and if you're feeling very desperate go to living room. Zoe in Yellow is where my party stops though.
Cool Things to Do in Chiang Mai
Cooking classes:
Learn to cook one of the world's best foods. Separate an evening and cook for a few hours, five hours of cooking and eating can cost you as little as 700 baht (20 bucks) the classes tend to be private due to the lack of demand.
Elephant Sanctuary:
Go with huge elephants and enjoy their company. These massive creatures are treated humanely, you won't get to ride them, but do you really want to hurt the poor thing? It's kind of like a big dog that can crush you to death.
Massage Classes:
One of the thing Chiang Mai is most well known for is massages, you'll find a place in every corner for 7 US dollars you can get a massage. We all know how the saying goes though, teach a man to fish.. Massage classes can be as little as 25 dollars for 6 hours of classes. 5 days and you a diploma.
Sticky Waterfalls:
Climb up a waterfall, it's slightly far away but well worth the ride.
Muay Thai Boxing Classes:
There's some great gyms all over the place to learn Muay Thai, if you really want to try something out of the ordinary I recommend not Muay Thai but BJJ, there's a very cheap place in old city by a guy that really cares about what he's doing. 
Watch a Muay Thai Fight:
Muay Thai fighting is cultural, ancient, professional. These tournaments throw everything away though for entertainment. Watch huge European men get thrashed around by short thai guys. 5 Thais in the ring blindfolded fighting each other. Plus many more interesting match ups.
Get a Scooter and Ride around: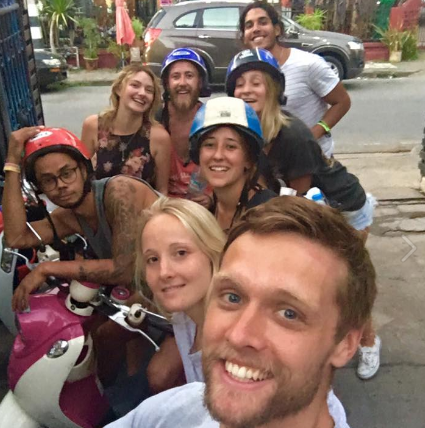 Despite the huge elephants being on this list, this is the most dangerous thing to do. Many inexperienced drivers have suffered crashed on the road. It is though a super fun thing to do to go rent out a scooter for 3 dollars a day and drive around to the temples.
Go to Chiang Mai
All in all Chiang Mai is a worthwhile place to visit. It is great for working remotely and greatly makes up for it's lack of night life with the beautiful experiences you can have there. The trip there has been great, I hav met many people I will call my friends for years and will yearn to come back.